Crown Royal Vanilla has won over the hearts of whiskey connoisseurs and expert mixologists with its sublime combination of vanilla tastes and premium Canadian whiskey. Crown Royal Vanilla is delicious on its own, but it also works wonderfully in a variety of cocktails. The skill of making outstanding cocktails with Crown Royal Vanilla is explored in depth in this essay, which serves as your ticket into the thrilling world of mixology. You'll find a plethora of ideas to enhance your drinking experience, whether you're a newbie looking for inspiration or a seasoned bartender looking to expand your repertoire.
Mixers for Crown Royal Vanilla
| | | | |
| --- | --- | --- | --- |
| Cocktail | Ingredients | Description | Garnish |
| Ginger Ale | Crown Royal Vanilla, ginger ale | Whiskey and ginger ale is a time-honored favorite. A lime wedge and ice should accompany this. | Lime wedge |
| Cola | Crown Royal Vanilla, cola | Whiskey with hints of caramel and vanilla, mixed with cola. Add a slice of orange and a maraschino cherry on the top. | Maraschino cherry, orange slice |
| Lemonade | Crown Royal Vanilla, lemonade | Refreshing and zesty, with a lemony acidity that perfectly complements the sweetness of the whiskey. Put some mint leaves or a slice of lemon on top. | Mint or lemon wheel |
| Iced Tea | Crown Royal Vanilla, iced tea | Refreshing drink with just the right amount of sugar. Choose from black, green, and herbal tea. Enhance the flavor with a squeeze of lemon or a drizzle of honey. | Lemon wedge, honey |
| Cranberry Juice | Crown Royal Vanilla, cranberry juice | Refreshing and fruity cocktail, with a hint of vanilla to balance the tartness of the cranberries. Cranberries added as floaters up the class level. | Floating cranberries |
| Coffee | Crown Royal Vanilla, coffee | Cozy and cozy ingredients. Coffee with whiskey? Why not. Cinnamon and whipped cream are a delicious topping. | Whipped cream, cinnamon |
| Pineapple Juice | Crown Royal Vanilla, pineapple juice | Pineapple and vanilla whiskey make for a tropical treat. Add a pineapple slice or a maraschino cherry for presentation. | Pineapple slice, maraschino cherry |
| Orange Juice | Crown Royal Vanilla, orange juice | Cocktail reminiscent of a Creamsicle, made with smooth whiskey and tangy orange juice. Excellent for lazy Sundays and weekend brunches. | None |
| Cranberry-Ginger Ale | Crown Royal Vanilla, cranberry juice, ginger ale | This punch is the next level in mixed drinks. Whiskey can be added to a mixture of equal parts cranberry juice and ginger ale. | None |
| Club Soda | Crown Royal Vanilla, club soda | Option that is lighter and more bubbly. The flavor of the whiskey is complemented by the club soda without being overpowered. | None |
Cocktail Recipes with Crown Royal Vanilla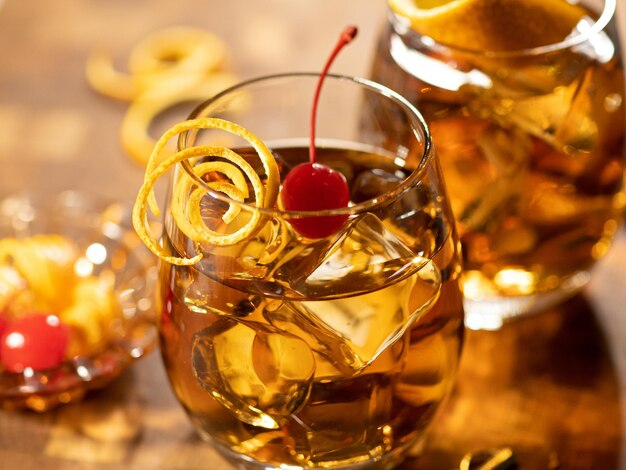 Whiskey drinks may really shine when you use Crown Royal Vanilla as the star ingredient. Here are three tasty cocktail mixes that show off the Crown Royal Vanilla's adaptability.
Vanilla Old Fashioned
The addition of Crown Royal Vanilla to this traditional drink creates a pleasant new dimension of flavor. Recipe after the jump!
| | |
| --- | --- |
| Ingredient | Amount |
| Crown Royal Vanilla | 2 oz |
| Sugar cube | 1 |
| Angostura bitters | 2 dashes |
| Orange peel | |
| Cherry | |
Instructions:
To begin, fill an old-fashioned glass with ice. Add the sugar cube and Angostura bitters.
The sugar cube and the bitters should be mushed together. The sugar can be broken down and the bitters' tastes released by muddling.
Fill the glass with ice until it is two-thirds full.
Add the 2 ounces of Crown Royal Vanilla and pour it over the ice.
While the drink chills and the flavors combine, stir the ingredients carefully.
Add a cherry for a touch of sweetness and a twist of orange peel for a burst of citrus flavor to your Vanilla Old Fashioned.
Royal Ginger Fizz
The Royal Ginger Fizz is a light and bubbly drink that mixes the sweetness of ginger beer with the smoothness of Crown Royal Vanilla. Recipe after the jump!
| | |
| --- | --- |
| Ingredient | Amount |
| Crown Royal Vanilla | 1.5 oz |
| Ginger beer | 3 oz |
| Lime juice | 0.5 oz |
| Lime wheel | |
Instructions:
Prepare a chilled highball glass by filling it with ice.
Fill the glass with 1.5 ounces of Crown Royal Vanilla.
To offset the sweetness of the whiskey, stir in half an ounce of freshly squeezed lime juice.
Add 3 ounces of ginger beer for a zingy, spicy finish to your drink.
Mix the ingredients together by stirring them lightly.
Lime wheels add a fresh, zesty note to the Royal Ginger Fizz.
Vanilla Cranberry Cooler
The Vanilla Cranberry Cooler combines the tartness of cranberry juice with the creaminess of Crown Royal Vanilla for a cocktail that is both delicious and refreshing. How to cook it is as follows:
| | |
| --- | --- |
| Ingredient | Amount |
| Crown Royal Vanilla | 1.5 oz |
| Cranberry juice | 3 oz |
| Lime juice | 0.5 oz |
| Club soda | |
| Lime wedge | |
Instructions:
Get the party started with a highball glass full of ice for a chill drink.
Toss in 1.5 ounces of Crown Royal Vanilla and stir to combine the vanilla flavors with the rest of the drink's components.
Mix with 3 ounces of cranberry juice for a sour and sweet taste.
To counteract the sugariness, add half an ounce of fresh lime juice.
Add a splash of club soda for some fizz towards the end of your cocktail.
Mix the ingredients together by stirring them gently.
To enhance the zesty aroma and add a touch of aesthetic appeal to your Vanilla Cranberry Cooler, garnish it with a lime slice.
Expert Tips for Mixing with Crown Royal Vanilla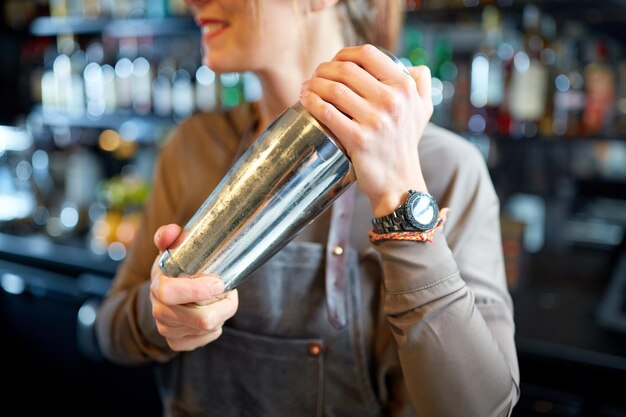 Here are some pro tricks to help you prepare the perfect Crown Royal Vanilla:
Experiment with Garnishes
Cocktails made with Crown Royal Vanilla benefit greatly from aromatic and flavorful garnishes. Try out different garnishes to see how they affect your drink. Among the most common choices, we find:
Herbs: Add a delightful herbal accent to your cocktails with some fresh herbs like mint, basil, or rosemary.
Citrus Twists: An invigorating zesty scent can be released with just a twist of lemon, lime, or orange peel.
Grated Nutmeg: Adding some freshly grated nutmeg to your drinks will give them a cozy scent and flavor.
Use your imagination to choose the perfect garnish for your drink.
Maintain Proper Ratios
Achieving the perfect balance between Crown Royal Vanilla and your chosen mixer is crucial for a harmonious flavor profile. Different cocktails may have different recommended ratios, so it's essential to follow recipes closely to ensure that no single ingredient overpowers the others. This balance is key to a well-crafted cocktail.
Use Quality Ice
Ice plays a vital role in many Crown Royal Vanilla cocktails by chilling and diluting the drink slightly. However, not all ice is created equal. Invest in high-quality ice that is free from impurities, as impurities can negatively affect the taste and appearance of your cocktails. Ice spheres or large cubes are preferred for slow dilution and minimal flavor alteration.
Shake or Stir
Knowing when to shake and when to stir your cocktails is essential for achieving the desired texture and clarity.
Shaking: Shake cocktails that include fruit juices, syrups, or egg whites. Shaking with ice aerates the mixture, creates a frothy texture, and thoroughly chills the drink. Make sure to use a cocktail shaker with a tight seal to prevent leaks.
Stirring: Stirring is the preferred method for cocktails that should remain crystal clear and silky in texture, like a classic Martini. Use a long bar spoon to gently mix the ingredients without introducing air bubbles.
Personalize Your Creations
Don't be afraid to get creative and put your unique spin on Crown Royal Vanilla cocktails. Experiment with different ingredients, flavor combinations, and presentation styles to craft your signature drink. You might stumble upon a new favorite that impresses your friends and becomes your go-to concoction.
Expanding Your Mixology Horizons
Crown Royal Vanilla is just the beginning of your mixology journey. There are countless other mixers and ingredients you can explore to create unique and exciting cocktails. Consider experimenting with flavored liqueurs, homemade syrups, and a variety of bitters to expand your repertoire.
Additionally, you can explore the world of cocktail glassware, as different glasses can enhance the drinking experience. From martini glasses to copper mugs for Moscow Mules, the possibilities are endless.
Conclusion
In the world of mixology, Crown Royal Vanilla is a versatile canvas upon which you can paint a myriad of flavors. Its smooth and creamy vanilla notes make it an ideal base for a wide range of cocktails, from timeless classics to innovative creations. Whether you prefer the simplicity of a Crown Royal Vanilla and ginger ale or the complexity of a custom-crafted cocktail, this whiskey will not disappoint.
So, the next time you're pondering what to mix with Crown Royal Vanilla, remember that you're embarking on a flavorful adventure limited only by your creativity. Cheers to the endless possibilities and unforgettable moments that await you in the world of Crown Royal Vanilla mixology!
FAQs
Q1: Is Crown Royal Vanilla only for sipping, or can it be mixed in cocktails?
Crown Royal Vanilla is incredibly versatile and can be used in a wide range of cocktails. It pairs well with various mixers, allowing you to create unique and flavorful drinks.
Q2: Can I substitute regular Crown Royal in these recipes?
Absolutely! While Crown Royal Vanilla adds a distinct vanilla note to cocktails, you can use regular Crown Royal in any of the recipes mentioned. The choice is yours based on your preference.
Q3: Are there any non-alcoholic mixers for Crown Royal Vanilla?
Yes, you can mix Crown Royal Vanilla with non-alcoholic options like ginger ale, cola, lemonade, and various fruit juices to create delicious mocktails.
Q4: What's the best way to enjoy Crown Royal Vanilla neat?
Crown Royal Vanilla is delightful when sipped neat. To fully appreciate its flavors, serve it in a whiskey glass at room temperature or with a single ice cube. Sip slowly and savor the rich vanilla notes.
Q5: Are there any seasonal cocktails that feature Crown Royal Vanilla?
Certainly! You can adapt the cocktail recipes to suit different seasons. For example, you can create a Crown Royal Vanilla Hot Toddy during the winter months by adding hot water, honey, and a cinnamon stick.